---
---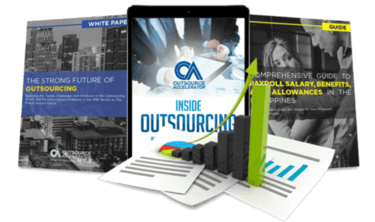 Outsource the right way, the first time
Get up to speed in outsourcing with this all-in-one tool kit
GET YOUR FREE TOOLKIT

PARTNER

PRO
About Orange Bamboo Inc.
Orange Bamboo Inc. is a fast-growing private owned company that has focused its business on Business Process Outsourcing. Our passion is listening to our client's ideas, thinking through solutions and coming up with effective results. Most Importantly, we keep it simple.
What Orange Bamboo Inc. offers its clients
Our company name is Orange Bamboo Inc. We aim to solve your business/contact center challenges with a dynamic network of people. Reduce over-scheduling, solve seasonality problems, recruit and retain higher quality agents, and more as we infuse innovation, insights, and operational excellence to make every experience great for your customers.
We provide services such as Virtual Assistants, Data Entry, Lead Generation, Customer Service, Technical Support, Inbound Sales, Outbound Sales and any ou
How Orange Bamboo Inc. outshines the competition
We provide one of most affordable rates in the market today without affecting quality. We provide a very flexible service that will meet the clients needs.Flexibility is the key to Stability!Our creativity and determination are strongly rooted for success yet flexible to overcome adversity.We bend, not break!
Orange Bamboo Inc. company structure
Orange Bamboo Inc. is an incorporation with 5 members. A fully Filipino owned Call Center in Mandaue City Cebu.
Sample highlight service offering of Orange Bamboo Inc.
For Data Entry and most non-voice projects, our rate starts at $3/hr only.
We offer a free trial for qualified clients.