---
---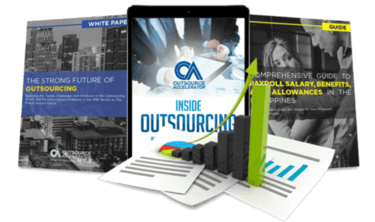 Outsource the right way, the first time
Get up to speed in outsourcing with this all-in-one tool kit
GET YOUR FREE TOOLKIT

PARTNER

PRO
About Elevated Plus
Elevated Plus is a dynamic partner to companies all over the world. With a roster of customers coming from the software, healthcare, petroleum, real estate, fitness, and hardware industries to name a few, we are adept at creating staffing solutions for any problem.
Our on-demand services allow for any size budget, while ensuring maximum efficiency. Smaller clients benefit from the ability to hire employees only when they need them, while larger clients are able to better manage volatile day-to-day workloads without having to overstaff. We charge a flat hourly rate for all of our services, without any administrative, setup, or other hidden costs. On top of that, we offer the first 25 hours of work for free.
Continuing with the theme of flexibility, we prefer to adapt to how our customers work, rather than having them fit into a mold. Whether a client wants to micromanage everything, be completely hands off, or fall somewhere in between those two extremes, we can provide top quality service without being a bureaucratic burden.
What Elevated Plus offers its clients
We offer general and custom staffing solutions with on-demand availability and pricing.
How Elevated Plus outshines the competition
We have built a team that can solve any problem. While we offer the standard BPO services like back office and customer service, we also specialize in creating one-off solutions to the unique problems that each business faces. More than just staffing, we can propose and implement creative solutions that free up our customers' time.
Unlike most BPOs, we offer simple, on-demand flexibility and pricing. If your day-to-day needs shift wildly, we can accommodate that. If you're a small company that only needs a few minutes or hours of work every week, we can help. Charging a flat hourly rate as we do ensures that budgeting is easy, as you only pay for the time that you use. You're also free to cancel, change, or scale/up down requests at a moment's notice without any penalties.
We offer the first 25 hours of work for free as a way for our clients to ensure we're the right fit before they have committed any money to the process. We know that hiring the right BPO can be a difficult process, and we want all of our customers to feel confident and comfortable when choosing us. We our confident that our staff will impress.
Our employees come from a variety of backgrounds, and we take pride in being able to identify and develop talent. We nurture strengths and build balanced teams, capable of tackling any issue.
Elevated Plus company structure
We are a boutique BPO, the second formed by two entrepreneurs, and American and a Filipino.
Nearly a decade after forming our software services company (which we still own and operate), we formed Elevated Plus as a result of all they had learned, and the numerous teams we built to solve a variety of unusual issues that our clients had. We realized that we were able to quickly implement efficient solutions to almost anything.
We do not have outside investors. As such, we are able to quickly make decisions and move as we see fit to work with our clients.
Sample highlight service offering of Elevated Plus
We offer a risk-free 25 hour trial to all of our clients.
A few metrics about Elevated Plus
Services offered by Elevated Plus
Elevated Plus news, podcast and articles
This BPO doesn't have any news, podcast or articles yet.
This BPO doesn't have any news, podcast or articles yet.
Elevated Plus videos & images
No video available for this BPO
No video available for this BPO
This BPO doesn't have any images yet.