Elon Musk slams remote work at Tesla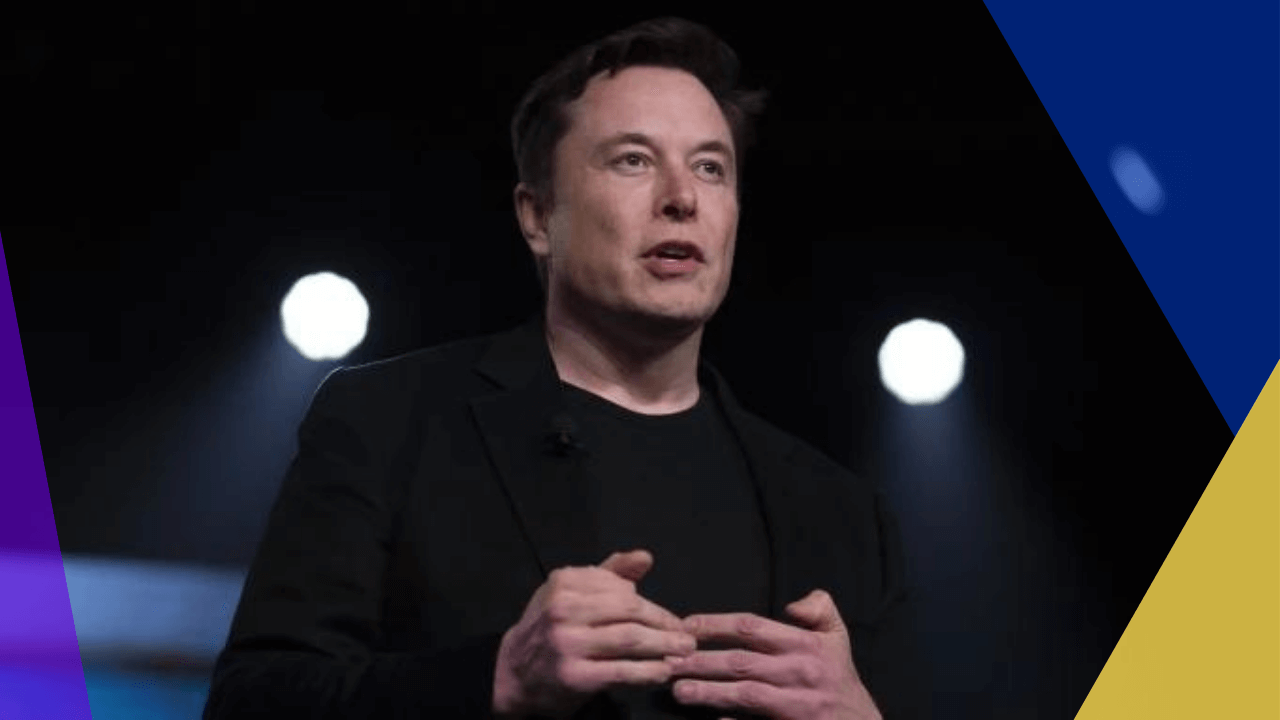 CEO Elon Musk slammed remote work in a leaked email, demanding Tesla and SpaceX employees to work at least 40 hours a week in the office or resign.
Musk sent two separate emails regarding the new policy. "Anyone who wishes to do remote work must be in the office for a minimum (and I mean *minimum*) of 40 hours per week or depart Tesla. This is less than we ask of factory workers," Musk said in the first email.
"If you don't show up, we will assume you have resigned."
Elon Musk's opinion on remote work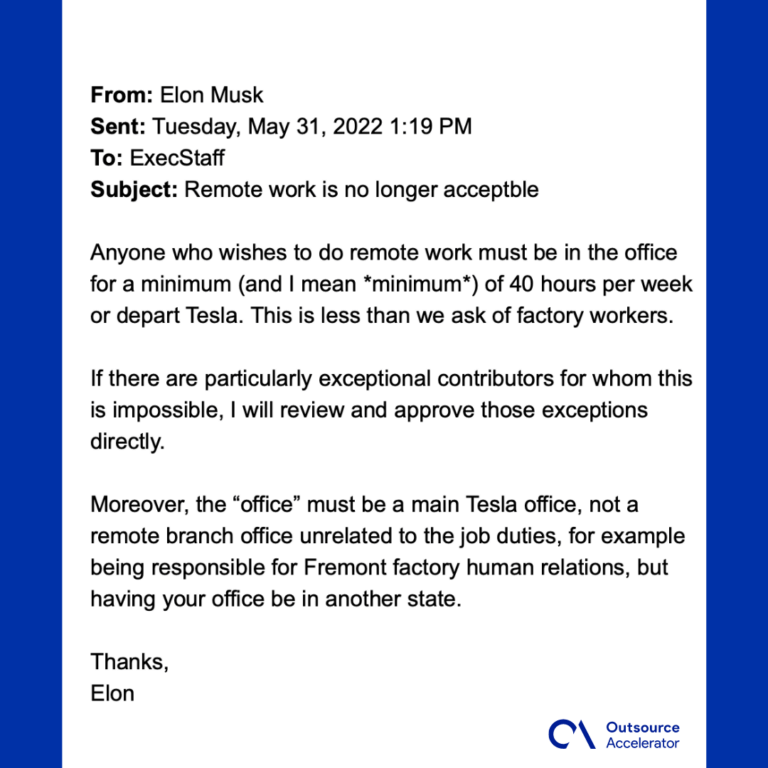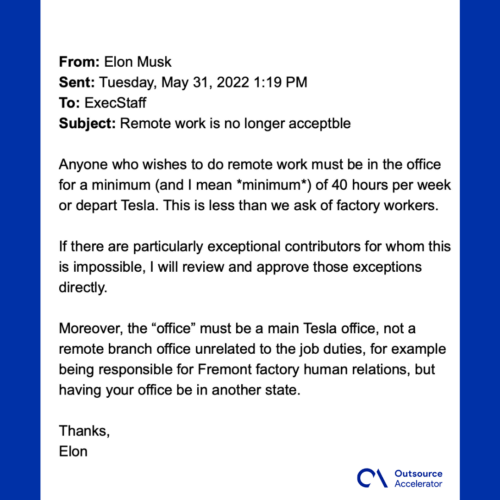 Elon Musk, also known as the world's richest person, is definitely not a fan of remote work.
In a follow-up email, Musk stated, "There are of course companies that don't require this [employees to return to office], but when was the last time they shipped a great new product? It's been a while."
The billionaire Tesla CEO added that the company will "create and manufacture the most exciting and meaningful products of any company on Earth."
"This will not happen by phoning it in," he emphasized.
Musk claims that being visible and working on-site plays a huge factor in a business' success. 
"The more senior you are, the more visible must be your presence. That is why I spent so much time in the factory — so that those on the line could see me working alongside them. If I had not done that, SpaceX would long ago have gone bankrupt."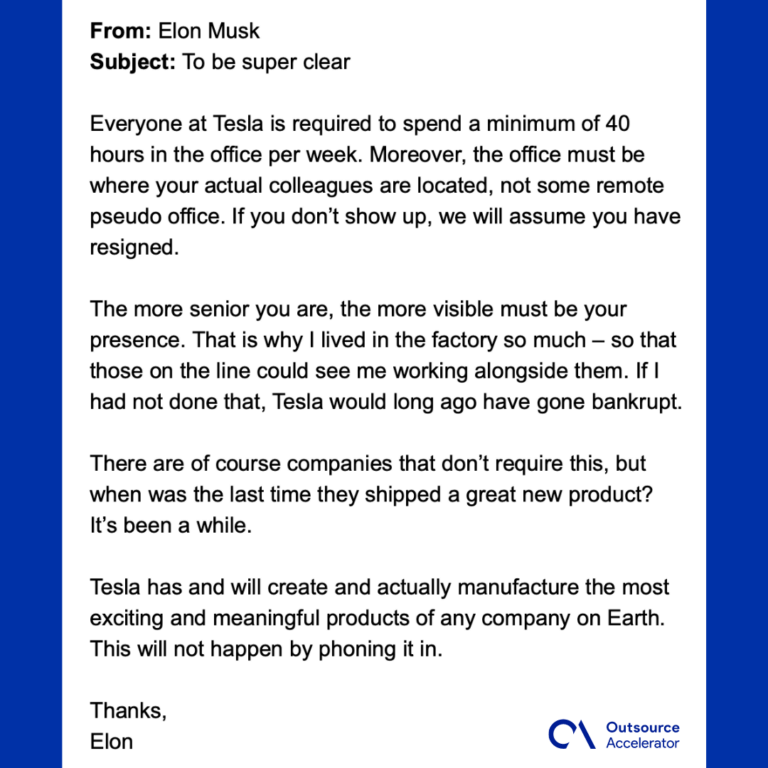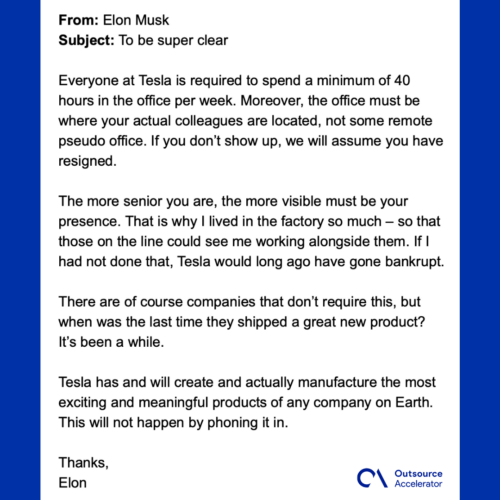 Elon Musk vs remote work
Musk's leaked email became instantly viral, especially on social media platform Twitter – which he recently bought for US$44 billion.
One Twitter user in particular asked the Tesla CEO, "A lot of people are talking about this leaked email, any additional comment to people who think coming into work is an antiquated concept?"
Elon Musk replied, "They should pretend to work somewhere else."
Musk has not officially responded to requests for comment.
Why Elon Musk is against remote work
The outspoken Tesla CEO is known to not hold back on his strong opinions against remote work.
In an interview with The FInancial TImes, Musk expressed his admiration to Chinese factory workers who work hard and "won't even leave the factory." He then compared it to Americans who are trying to "avoid going to work at all."
Do you think this is a fair comparison? Let us know!