Definition
What is smallsourcing?
Smallsourcing is a technique in which an individual or a business engages a third party to undertake a specific task. It allows you to hire the expert you need on a project-by-project basis.
Freelancing platforms like Upwork, Freelancer, and Fiverr are examples of smallsourcing, where you get to connect with small-scale contractors and vendors. In a short-term arrangement, you can work with people whose abilities you lack in your company.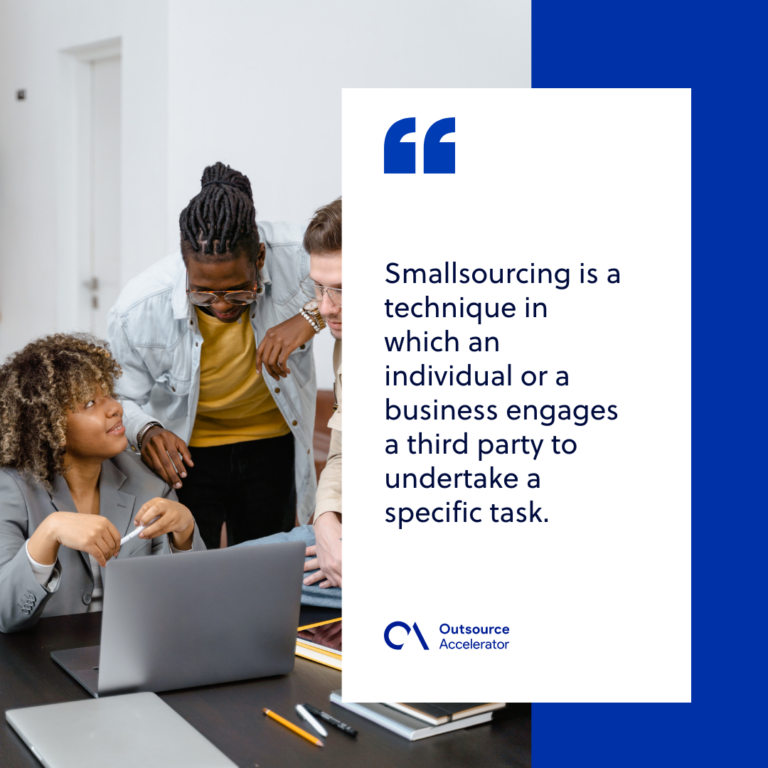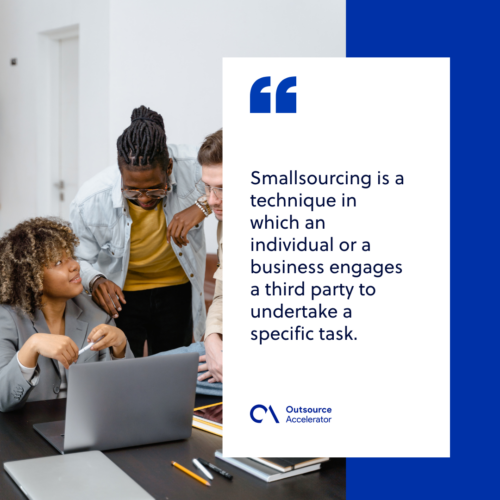 Benefits of small sourcing
Outsourcing and smallsourcing have almost the same advantages. Here are the benefits when you outsource specific projects: 
Improving productivity
Just like outsourcing, small sourcing improves a company's productivity – directly or indirectly. It works so well because it allows businesses to concentrate on the company's core operations.
To boost production and efficiency on your project, a smallsourcing vendor brings in specialized knowledge and experience. Having professionals with the expertise required for the task can help you finish your project faster without compromising its quality.
Flexible staffing options
One common reason companies are smallsourcing is that they lack experts or employees who can handle a project. 
It is possible to use additional resources when needed and release them when they are no longer required through smallsourcing if your company's activities include cyclical or seasonal requests for additional staffing.
Minimizing expenses
As one might expect, getting the help of professionals only as you need them is more economical than hiring full-time workers. Additionally, your profit margin will expand because of the lower overheads resulting from reduced recruitment costs.
Risk sharing
Risk monitoring and evaluation are critical to the success of any project. You can reap the benefits of smallsourcing certain parts of your campaigns or processes to specialists in their respective disciplines, and these people can prepare better and reduce risks for you.