Definition
What is a PHP developer?
PHP developers can often be found on the server-side of software and application development. They develop backend components and web services that support the client- and customer-facing side of the project.
Oftentimes, they use web-based programming trends and languages such as PHP, MySQL, and Javascript.
From code analysis to development and database optimization, PHP developers have to possess such knowledge in order to perform well in their positions. 
PHP developers are expected to have a working knowledge of SQL and other related database programming languages. Their familiarity with using code repositories should also come in handy, as projects often deal with these on a regular basis.
Even if it's just some basic concepts like regular expressions or classes within a package (such is the case for databases), these practices will help them prepare their coding skills efficiently.
In most cases, these devs start their careers by studying related courses like software development and computer science to strengthen their foundation. 
In some, however, they don't possess any college degrees related to the practice itself, meaning that they self-studied along the way. 
The good news however is that more and more companies are employing professionals even if they don't have a degree—as long as they have the experience and working knowledge.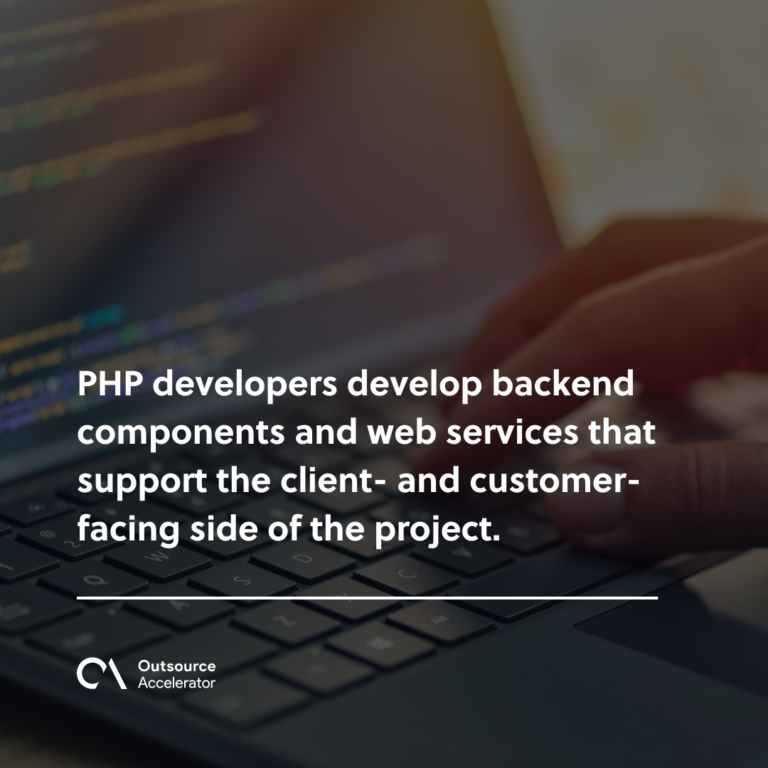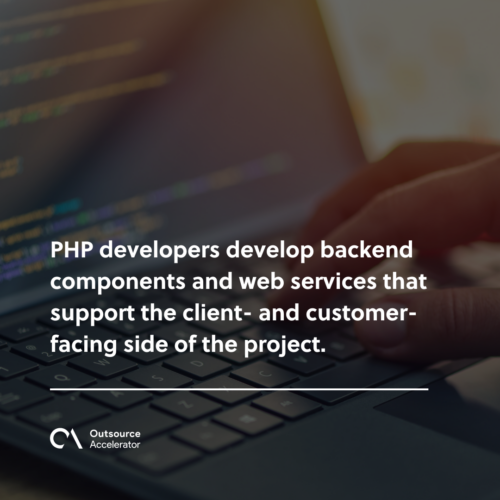 PHP developer salary
These developers should be well compensated as they work with the backbone of every software development project to ever exist in a company.
They work with frameworks that ensure each and every part of the program works as it should be. PHP devs may work in the backrooms but the work they do is important and touches every part of the software development life cycle (SDLC) process.
PHP developer salary: US vs PH
Annual PHP developer salary

Junior developer

Mid developer

Senior developer

United States

US​​$80,000

US$97,000

US$125,700

Philippines

₱180,000

(US$3,576.50)

₱290,000

(US$5,762.14)

₱900,000

(US$17,882.51)
According to multiple sources such as Payscale, Indeed, and Glassdoor, these figures are the salary averages for the United States and the Philippines. 
Keep in mind that these salaries are subject to change and are heavily reliant on external factors. These figures are also independent of bonuses and incentives that employers pay their employees.
By looking at the table, we can see that a junior dev with 1-4 years of experience can earn a decent $80k per year in the US, as compared to the Philippines' ₱180,000 (US$3,576.50).
Moving onto the mid-level dev with around 5 to 7 years of experience, they earn about $97,000 in the US. While their Philippine-based counterparts would earn around ₱290,000 (US$5,762.14) within the same time period.
Finally, the highest-paid and the most experienced of them all—the senior developer. With at least 8 years of experience, they get paid US$125,700 in the US and about ₱900,000 (US$17,882.51) in the Philippines.