Definition
What is a .NET developer?
Used as a catch-all term, a .NET developer is trained in the .NET framework. They often work on C# and VB.NET projects. 
These developers are considered "relics" of the software-developing community. The languages they use are often found in programs written years ago.
Employers usually group each subsector of .NET developers, leading to confusion among applicants. To improve this situation, some companies put and write down the specifics of the job. 
While job descriptions are often vague and non-exhaustive, there are times when they need to be as specific as possible. For example, "team leader responsibility" or similar phrasing indicates team strategy leadership responsibilities (not necessarily hiring duties). 
For .NET devs, however, these can include manual tasks like coding new code and reporting bug fixes at milestones for others within the development team.
In most cases, everyone should include details about responsibilities and job duties, such as what software they'll be using. It's essential to be as specific as possible, as the .NET framework has a handful of programming languages.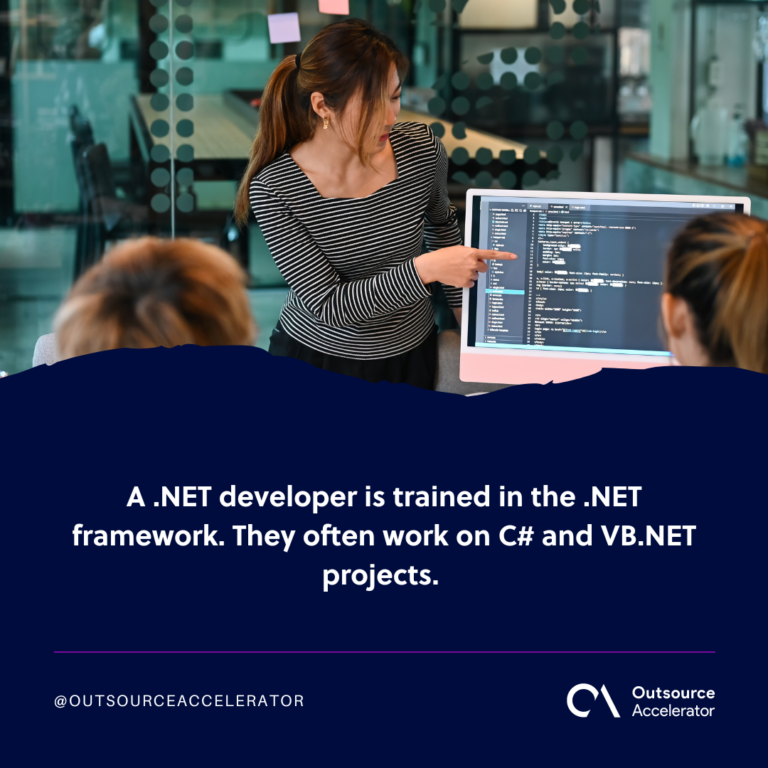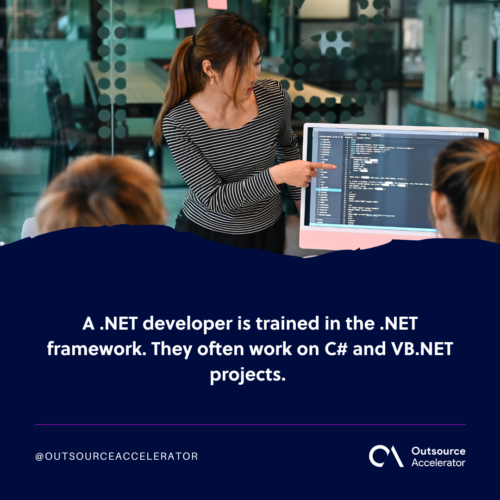 .NET developer salary
Even if .NET devs aren't the newest addition to the group, their salaries still match their potential.
As with other developers in the industry, they are well-compensated whether or not they are college graduates of STEM degrees. Nowadays, software devs and computer programmers usually are self-taught. 
They opt to graduate with a non-STEM degree and pursue other paths once they get settled in the professional world.
That said, the salary figures are dependent on the individual's experience in the field. That's why we have a junior, mid-level, and senior developer range below.
.NET developer salary: US vs PH
Annual NET developer salary

Junior developer

Mid developer

Senior developer

United States

US$93,076

US$104,500

US$132,500

Philippines

₱390,000

(US$7,775.51)

₱606,000

(US$12,081.94)

₱822,000

(US$16,388.38)
These figures are based on the national average of each country and according to Talent.com and ZipRecruiter. 
These wages are heavily dependent on exchange rates, rates per hour or day, and other factors that can affect one's income. These are base wages, which means bonuses and other incentives aren't counted along with the numbers.
As seen on the table, a junior .NET dev with one to four years of experience can get either US$93,076 in the US or ₱390,000 (US$7,775.51) in the Philippines. 
A mid-level developer with five to seven years of experience can either get US$104,500 in the US or ₱606,000 (US$12,081.94) in the Philippines within the same period.
Finally, senior employees with over eight years of experience can either get US$132,500 a year in the US or ₱822,000 (US$16,388.38) in the Philippines.