Definition
What is legal outsourcing?
Also known as legal process outsourcing (LPO), the practice involves contracting certain legal services to an outsourced legal support provider. Legal processes are also commonly offshored to other countries where expertise is available.
Outsourcing legal processes can help law firms save money and other resources. Rather than using corporate resources, specific legal services are outsourced to outside firms, local lawyers, or paralegals. With the use of technological tools, the entire job can also be completed online.
Lawyers in the LPO sector can also work on situations involving foreign legislation. Drafting documents, evaluating documents, conducting legal research, and adhering to various laws are part of the job.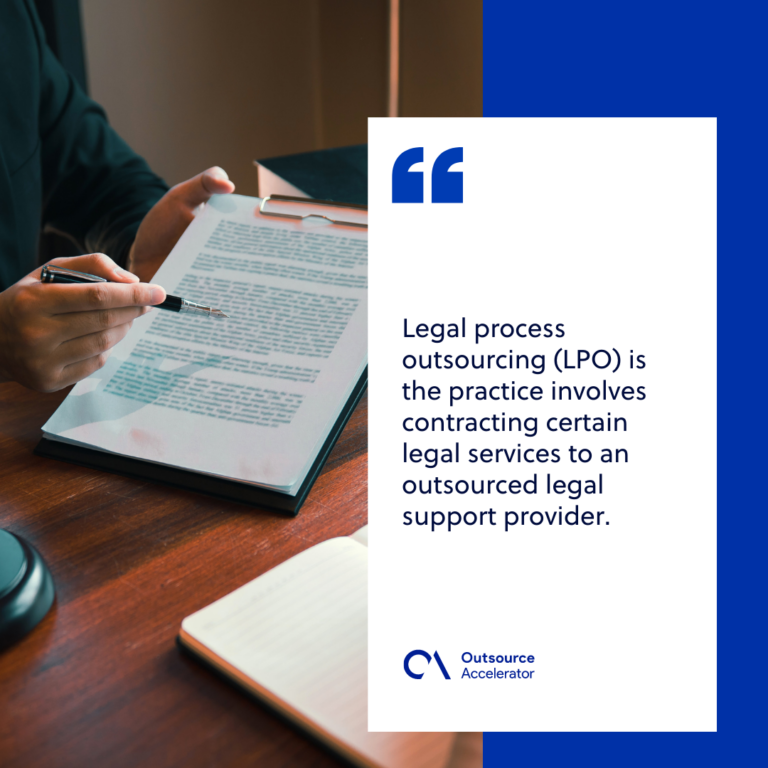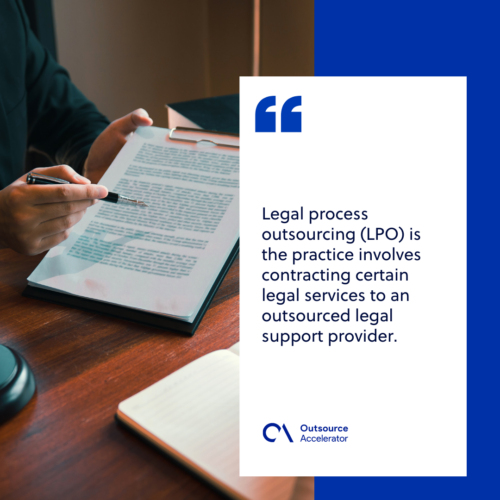 Benefits of legal outsourcing
Legal process outsourcing is in among the most rapidly growing sectors in recent years, and it offers a variety of advantages. Here are some of them.
Cost savings
One of the most significant advantages of LPOs is their low cost. Recruiting a qualified attorney or legal practitioner, as well as providing training, can be costly. Meanwhile, outsourcing legal work can result in considerable cost savings. 
In LPO, in-house legal departments outsource legal work to locations where services may be provided quickly and at a lesser cost.
Technology innovation
In-house lawyers benefit from legal process outsourcing by getting access to cutting-edge technology, more excellent data storage, and research tools. 
Moreover, litigation support service providers can help with paperwork, document storage, and transcribing. Clients benefit from these services because they don't have to spend on their facilities.
Flexibility
Depending on the demands of work, lawyers and legal organizations can complement in-house staff with external talents for more efficient operations. With this, it's easier to disperse variability and scale up or down without the additional costs. 
Law companies can avoid the fixed costs of pay and benefits associated with full-time, permanent employees by outsourcing to external contractors.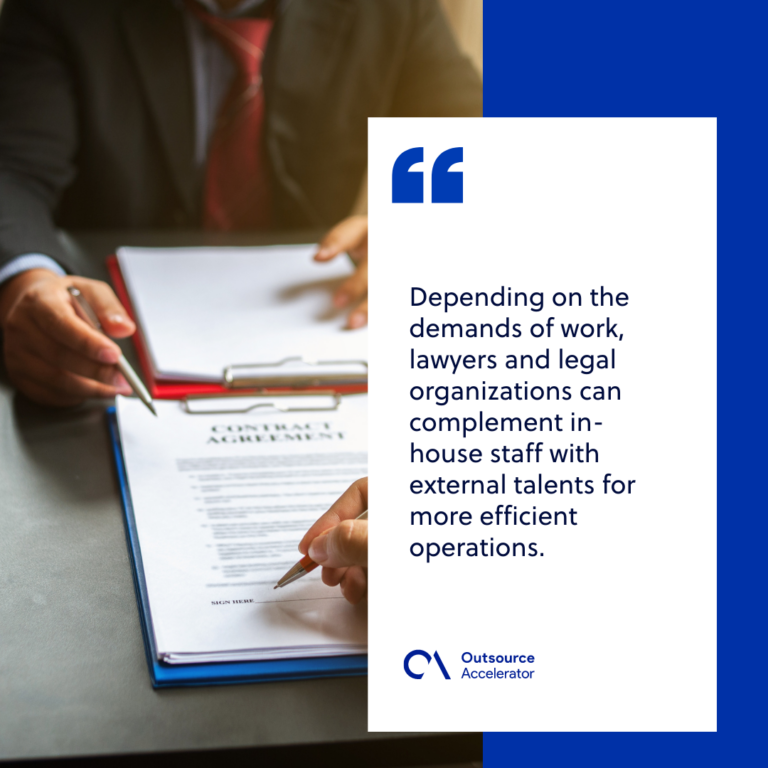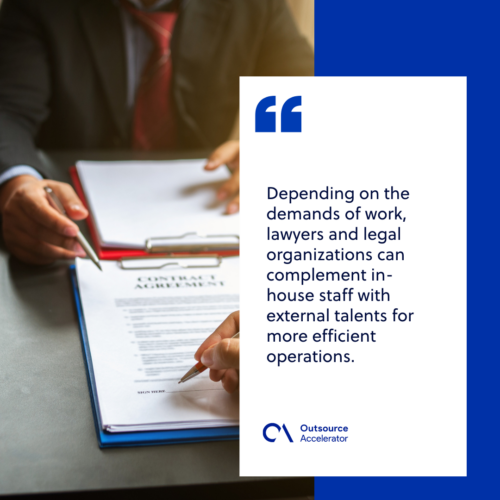 Better project management
When work is outsourced, project control can be maintained as well. It enables you to define the project's scope and specify a deadline for when it will be done. Most significantly, it will enable you to create your budget according to your needs.
Access to professionals 
Using the services of third-party professionals cuts down the time it takes to complete legal processes. In reality, a large pool of personnel improves the quality and scope of an outsourcing firm's services.
Outsourcing also reduces in-house personnel's burden and fills holes in internal competencies.
More focus on core operations
Assigning non-essential legal work to an offshore service provider can reduce delivery time while also freeing internal personnel to focus on growing the law firm's core functions.