Definition
What is iso certification?
ISO certification is a third-party sign of approval indicating a corporation adheres to the International Organization for Standardization's (ISO) created and issued international standards.
ISO certification allows businesses to implement growth, profitability, and cost reductions. Reduced waste allows your employees to be more efficient while also establishing ongoing QMS standards for continuous improvement and long-term client satisfaction.
Every ISO standard has its own set of advantages, for example:
ISO 9001 assists you in putting your customers first.
ISO 27001 ensures that your systems, data, and reputation are all safeguarded.
ISO 14001 minimizes the impact on the environment.
ISO 45001 assists you in safeguarding your employees.
ISO 22301 ensures that your business is not disrupted.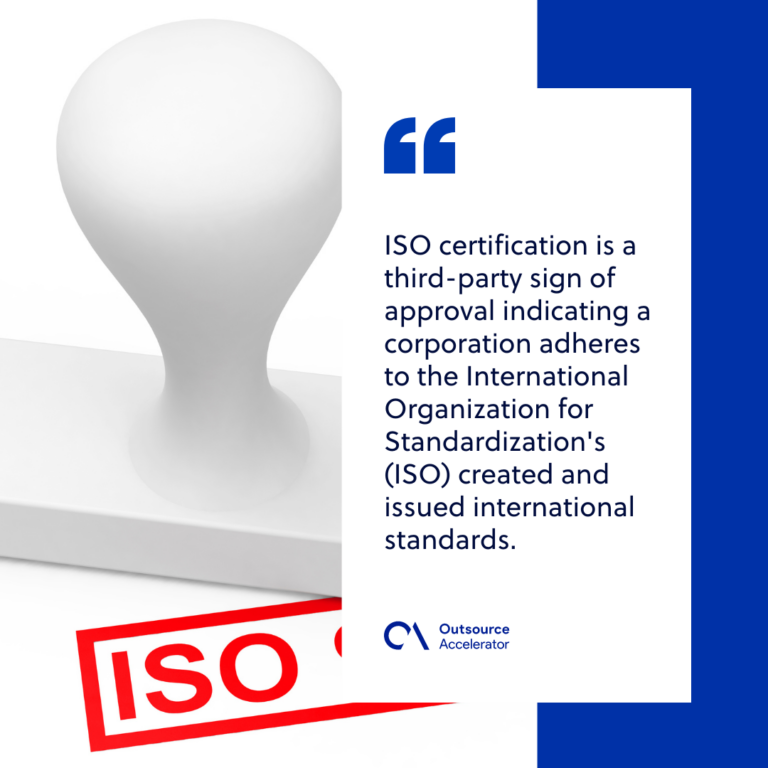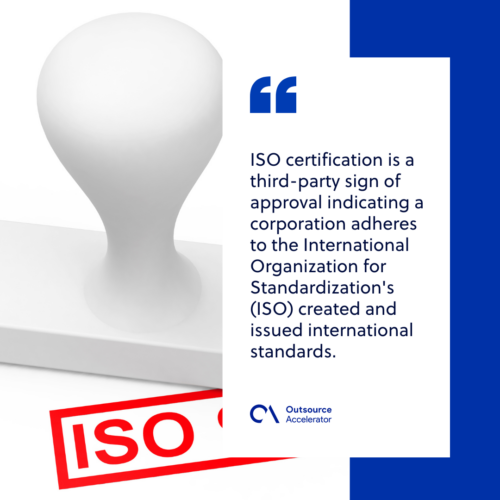 Different types of ISO Certification
ISO certification demonstrates to your major stakeholders that your company is well-managed, stable, and ready to expand.
ISO 900 Quality management system
ISO 9001 is a global standard that outlines the quality management system (QMS). The standard is useful for businesses to show that they can deliver consistent products and services that satisfy the customer and regulatory criteria.
ISO 14000 Family – Environmental Management System
The ISO 14000 family is designed for businesses and companies of all sizes that need effective tools to manage their social and environmental responsibility.
ISO 14000 is a set of environmental management standards designed to assist businesses to reduce their adverse environmental impacts, comply with laws, legislation, and other environmental obligations, and continuously improve in all of these areas.
OHSAS 18001 Occupational health and safety management
The OHSAS 18001 Certification is a risk-management and performance-improvement standard for businesses. It detects and assesses the impact and likelihood of dangers in the workplace. 
OHSAS 18001 emphasizes risk-control measures in a proactive and preventative manner. This standard, along with quality, environmental, and other management systems, is critical for your company's success. It will assist your firm in lowering direct and indirect expenditures while also preventing worker injuries.
ISO 27001 Information security management system 
ISO 27001 certification is widely recognized as a sign that your information security management system is compliant with industry best practices.
ISO 27001 is a solution that allows organizations to create, implement, run, monitor, review, maintain, and continually improve an information security management system or ISMS, which is part of the ISO 27000 set of information security standards.
ISO 22000 Food safety management system
ISO 22000 is a certification standard that integrates the ISO9001 food safety management system with HACCP for food safety assurance at all levels.
The standard incorporates the principles of the Codex Alimentarius Commission's Hazard Analysis and Critical Control Point (HACCP) system.