Definition
What is intraflow?
In the call center sector, intraflow refers to the process through which the call system identifies another set of agents to assist the primary team. It is typically used to balance workload and reduce caller delay in the call center.
Call centers can use call forwarding with intraflow in certain cases such as the final agent logging out or call waiting time being too long.
When the call waiting time in a queue hits a certain level, additional calls can intraflow without exceeding the threshold. 
Further, calls that have been in a queue for an inordinate amount of time can intraflow without exceeding the call number.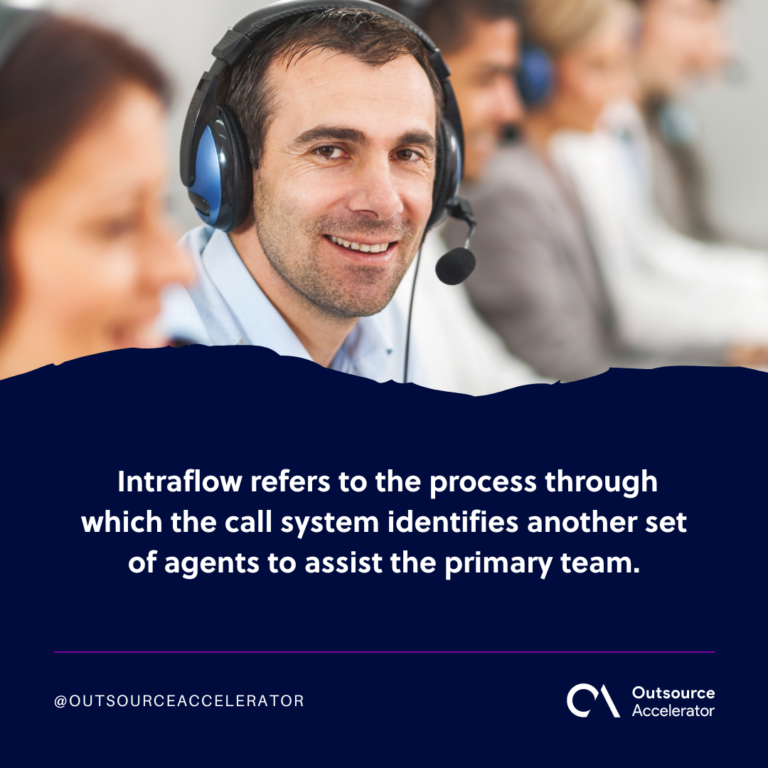 Intraflow in ACD routing
In intraflow, calls are routed from one agent to another within the same automatic call distribution or ACD environment. The calls will not leave the ACD environment, unlike in interflow.
The intraflow of a queue may be configured in the same way it can be built. It can be set based on time or the call quantity received in a given queue. The system will then choose an agent group that is not overwhelmed with calls and send clients to it.
This guarantees that consumer calls are answered on time. Waiting time is reduced when calls are distributed equitably in the same environment, thus lowering the rate of abandoned calls as well.