Definition
What is conditional routing?
Conditional routing allows an automatic call distributor to effectively direct calls by taking contextual and performance information into consideration. It does this by a sequence of situations, each with a preset treatment.
How conditional routing works
Conditional routing frequently uses automatic call distribution or ACD data on the performance of the call center as well as the caller's location and CRM customer information. The consumer also provides data using functionalities such as IVR and auto-attendants.
The call is routed to an internal extension called a vector directory number or VDN that routes the call to a vector. Vectors are user-defined extension numbers that can be used to route calls, play recorded messages, or divert calls to other sites.
Other aspects of the call are also controlled by vectors, such as the amount of time music is played and announcements the consumer hears.
With complete contact management, conditional routing boosts the efficiency of the staff employed in contact centers and aids in enhancing customer happiness and loyalty.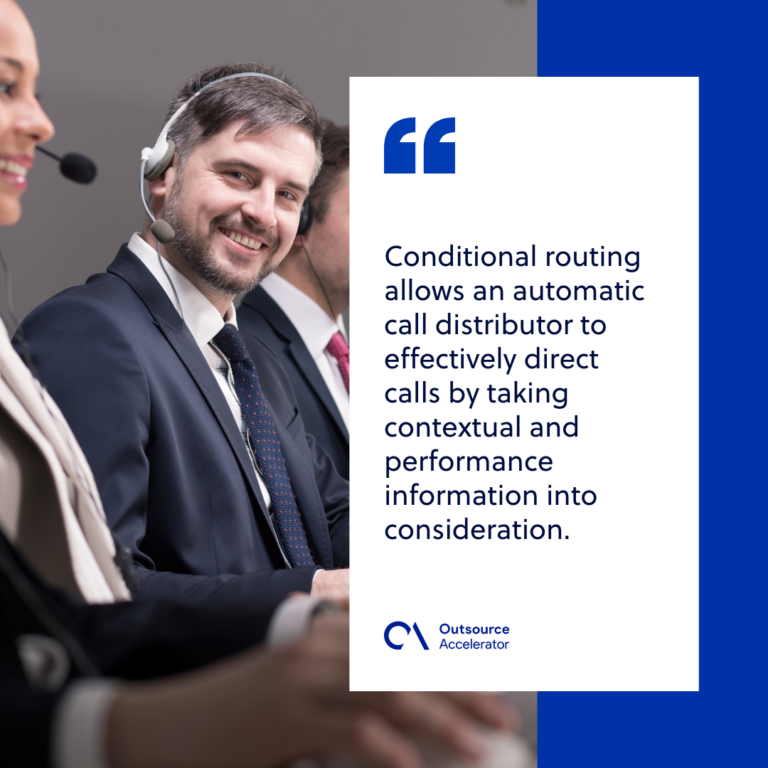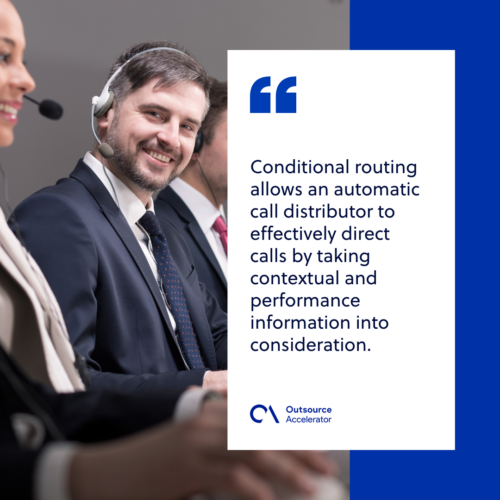 Benefits of conditional routing
Conditional routing offers greater flexibility in how ACD systems manage incoming traffic under various conditions. It also allows contact center coordinators to tailor callers' experiences depending on their preferences and past encounters.
Each call may be reviewed individually, ensuring that high-priority calls are treated as such. Call priority may be set at many levels, ensuring that sensitive and high-value calls are handled efficiently.
Variations in day-to-day operations, such as seasonal personnel numbers and operating hours during public holidays, can be accounted for.
Conditional routing can also boost the number of consumers who are routed to a suitable agent for the first time. This lowers overall interaction time and call transfers.
Better load balancing can assist multi-site call center services since traffic can be redirected depending on current or predicted contact volume.
Calls are redirected from more densely occupied locations to less heavily populated sites, making it easier to meet service level agreements or SLAs with given staffing numbers.