Definition
What is call riding?
Call riding refers to the event when an agent transfers a call and confers both with the customer and the third party. Most of the time, the third party could be another agent, a subject matter expert, or a call center team leader.
By doing the necessary steps, the issue of the caller has a higher chance of being resolved in the first call.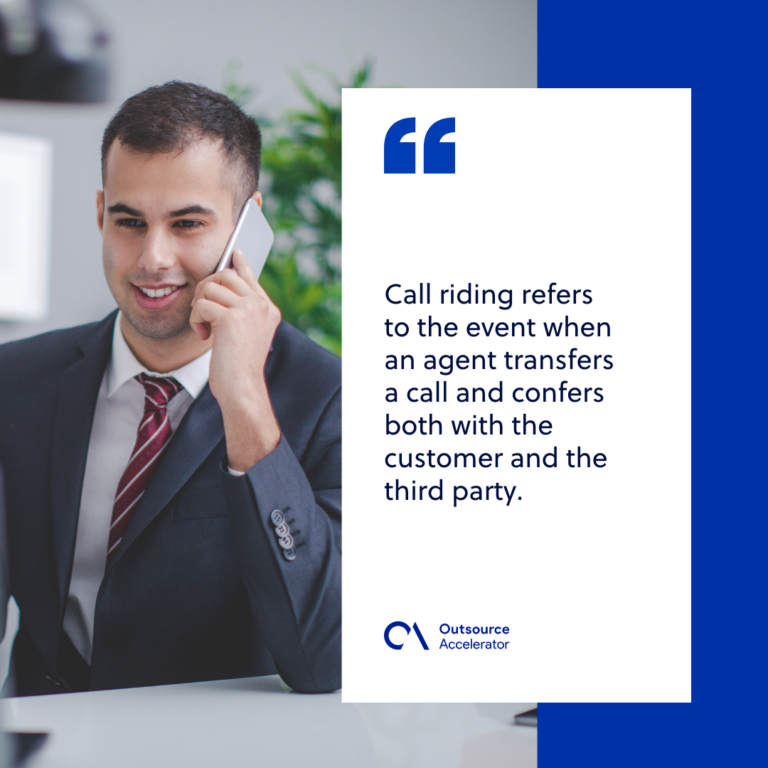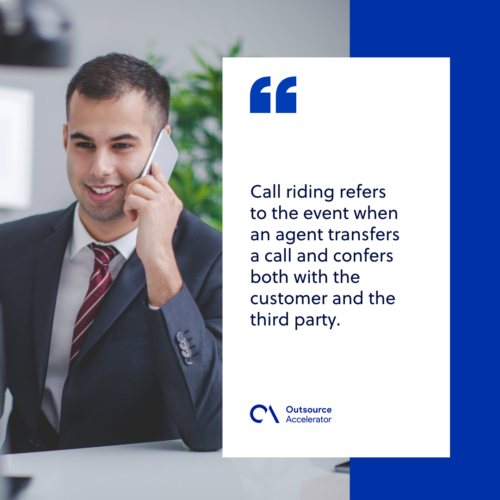 How does call riding work?
When the caller's inquiry or issue needs to be addressed by a different specialist, the agent initiates a call transfer by dialing in the right department and disconnecting once the transfer is successful. In some cases, the agent speaks with the concerned department first while the caller is on hold. 
With call riding, on the other hand, the agent stays on the line after referring the caller to the next specialist. They do not usually engage in the conversation anymore; the purpose is mainly to learn how the issue gets resolved. 
This process is especially beneficial to newcomers since they can learn the ropes without having to risk losing customers.
Is call riding necessary?
Yes, call riding is necessary as it assists both call center agents and the customers. With this feature, problems can be resolved faster, with the root cause addressed quickly by an expert.
Not only do the customers benefit from this, but the call center and the customer care department do as well. Call centers often develop strategies to hit their key performance indicators in a timely manner, and call riding is one of them.
3 benefits of call riding
From having a higher call resolution rate to better customer retention, this feature benefits both the company and the customers. 
Better customer experience
When issues get resolved in a timely manner (even with multiple parties present), customers tend to have a better experience. In turn, they will stay loyal to the company and its products.
Studies have shown that companies with higher CX rates have greater customer retention rates too.
Higher customer satisfaction rate
Getting a higher customer satisfaction rate creates opportunities for the company to come up with ways to improve their services and retain these rates. Satisfied consumers often come back and become regulars, thus increasing the business revenue.
Quicker resolution
When the right expert partakes in a call to resolve an issue, they are more likely to find the root cause of the problem and solve the issue not only for the caller but also for others with the same concern. 
Concerns, even when minor in nature, tend to pile up, and when it becomes repetitive, it warrants a deeper look into the case. Tackling the issue by its root cause is one of the most effective ways to ensure high-quality products and services.