Definition
What is call center attrition?
Call center attrition occurs when an agent leaves the company, but the company chooses not to replace the employee. Call center attrition is different from call center turnover. In turnover, the company replaces the employee with a new employee.
Attrition is a frequent issue where employees of a call center feel overwhelmed, underpaid, or undervalued. Understanding all the reasons workers are leaving the call center will help you identify the factors contributing to the turnover rate of your call center.
Causes of Call Center Attrition
When you are actively hiring and educating new agents, it isn't easy to achieve your objectives. That is why it is essential to be aware of what causes call center attrition. 
Here are some of the most common reasons for call center attrition:
Issues Concerning Compensation. Employees who feel they are not compensated enough or are not receiving good benefits can decide it is time to look for new employment. Lowering your pay may allow you to hire more agents, but this strategy may backfire if you must continually recruit and train new employees.
Insufficient training.

One of the most common concerns is that workers do not believe they receive enough training. Without the proper preparation, agents can feel as though they lack the resources to succeed in their jobs, contributing to lower morale and, inevitably, call center attrition.

Overwork and burnout issues.

When call center agents perform the same tasks every day, specifically if they're with your company for a long time, they can experience burnout. Call center attrition rates are also increasing as a result of a lack of career development.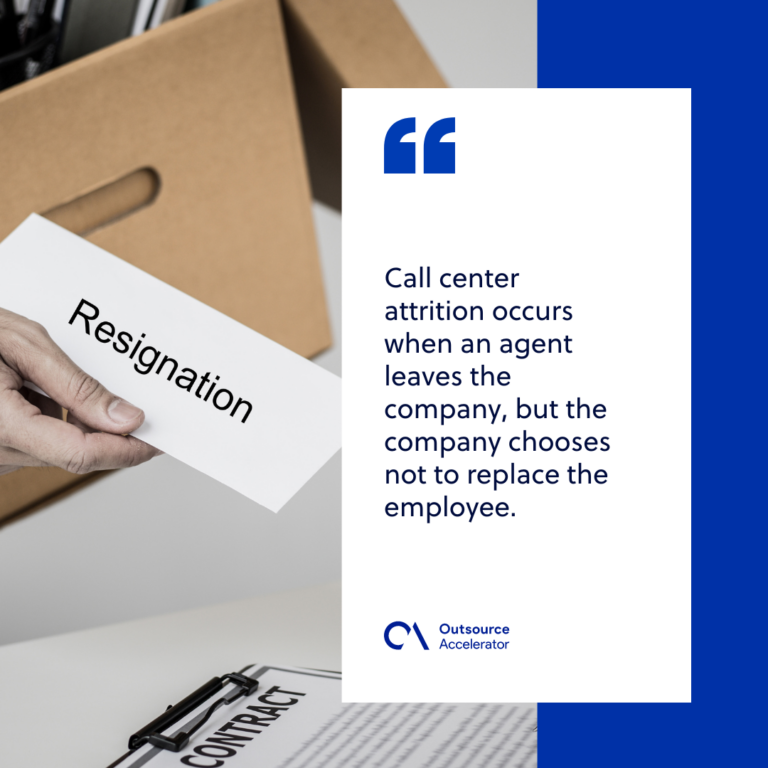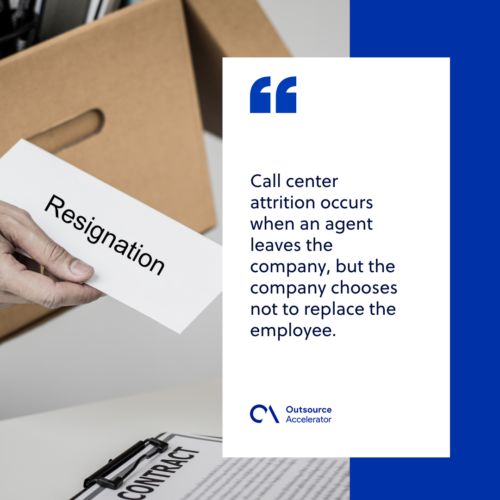 Best practice for call center attrition
Call center attrition has a significant effect on call centers. If the company's attrition rates are on a high or low end of this scale, they are always causing concern and must be addressed right away.
Optimize the hiring process. Hiring suitable applicants from the outset is the most critical thing you can do to increase call center attrition rates. Finding applicants who are a good match for your call center should be a part of your front-end recruiting plan. Rather than relying solely on resumes that tell a limited tale, recruiters may use pre-hire tests to determine essential skills and inherent abilities.
Improve your appreciation and incentive services

. Managers can also implement peer appreciation and incentive schemes. It will increase an agent's motivation while also developing mutual morale and involvement with their work.

Develop a coaching community.

A thorough onboarding process that involves employee preparation is an excellent way to integrate new employees, but in many situations, these efforts fall short of delivering long-term benefits.
Creating a culture of coaching and mentorship will provide new hires with the resources and feedback they need after the onboarding process is complete.