Definition
What is a back-end developer?
Most commonly found on the server-side of projects, back-end developers embody their names well. They work on building up the software's server-side processes, codes, and functions.
Like other developers, they are trained in specific programming trends and languages such as Python, C, PHP, Java, and Ruby. These languages are powerful enough to make software function from the ground up.
When it comes to programming languages, they often use the best one for the project. Some unknown patterns could be problematic if they're working with a database client that makes frequent queries against the software.
However, when used well together, back-end developers can create systems that take full advantage of available tools for data sources across domains (including remote databases). 
When the project continues, it becomes relatively easy for them to understand the pattern because some techniques require little training. This can be the case for junior developers.
That being said, back-end development is an integral part of any software development project, no matter what size. Having a solid framework foundation will always triumph any software created ahead of time.
This is another reason why back-end devs should be given ample time to complete their part of the project. Without any regard to the timeframe, some clients end up rushing things, therefore producing software plagued with bugs.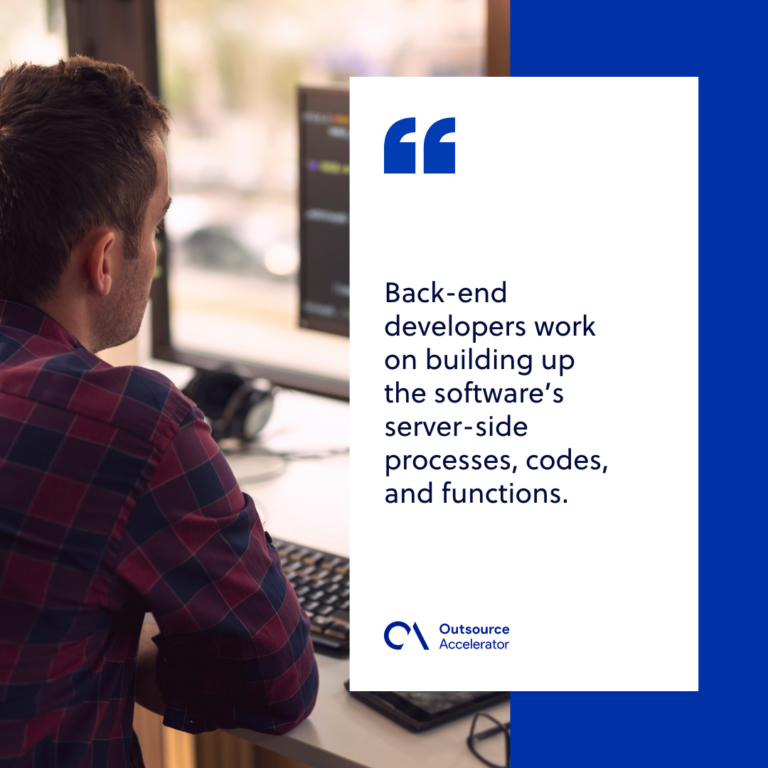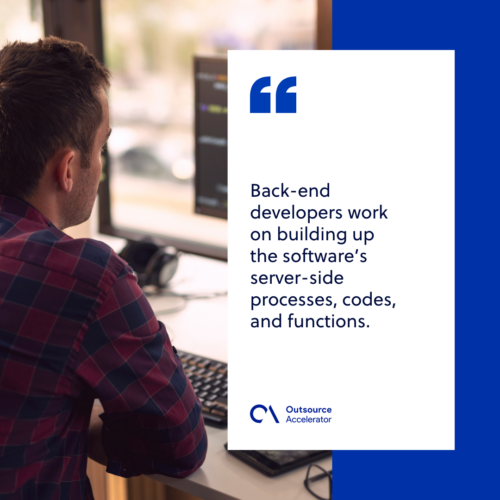 Back-end developer salary
It's not a surprise that back-end developers are some of the most well-paid individuals in the industry. Whether they're self-taught or not, it all really boils down to how they carry themselves at work and how experienced they are.
These salaries are a great jumping-off point for those who are looking for information or considering this career path.
Backend developer salary: US vs PH
Annual backend developer salary

Junior developer

Mid developer

Senior developer

United States

US$61,042

US$75,000

US$95,000

Philippines

₱350,000

(US$6,978.02)

₱540,000

(US$10,766.09)

₱720,000

(US$14,354.78)
While these figures are highly dependent on outside factors such as the exchange rate and the national wage, it's a great starting point for those who are looking for salary information.
Keep in mind that these figures are base salaries—meaning, they aren't computed with bonuses and incentives that one can get.
We can see that a junior dev with one to four years of experience in the US can earn up to US$61,042 annually. On the other hand, their PH-based counterparts can only get up to ₱350,000 or US$6,978.02 within the same time period.
The same wage disparity can be seen with mid-level devs (five to seven years of experience) in the US with US$75,000 and in the PH with only ₱540,000 or US$10,766.09.
Finally, senior employees with more than eight years of experience can get paid up to US$95,000 in the US, while they can only get $14,354.78 or ₱720,000 in the Philippines.