Definition
What is an application developer?
Application developers can be counted as customer-facing developers as they are directly and continuously working with customer service feedback.
They happen to be behind web apps, mobile apps, and other forms of easily accessible applications. From creating, coding, testing, and debugging applications, app devs handle these all.
The main reason web apps are counted here is that they tend to run on smartphones and work offline too.
To truly understand how an application works, they will need a basic understanding of programming languages and technologies. Java, .NET, Android, and Python are all part of this practice. 
Knowledge in front-end development is not required, but it's good to learn about them before continuing into more advanced levels. But many other developers rely on common Web standards such as HTML and CSS.
In the general scope of things, JavaScript frameworks like AngularJS or Ember have their own benefits and advantages concerning developing an app.
Learning becomes much more manageable since many libraries (like RequireJS, Handlebars, Grunt, etc.) are available, which build upon already existing components.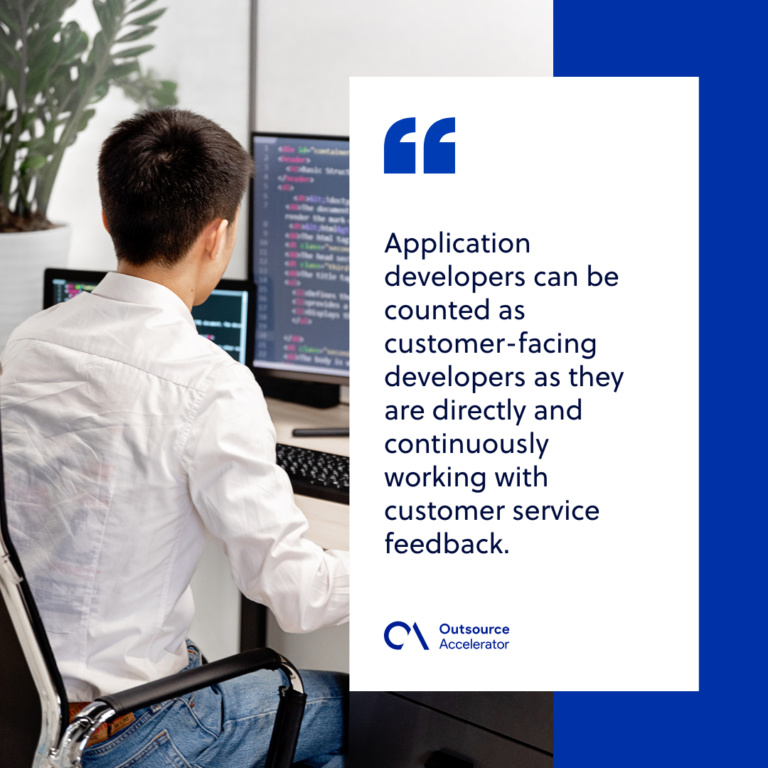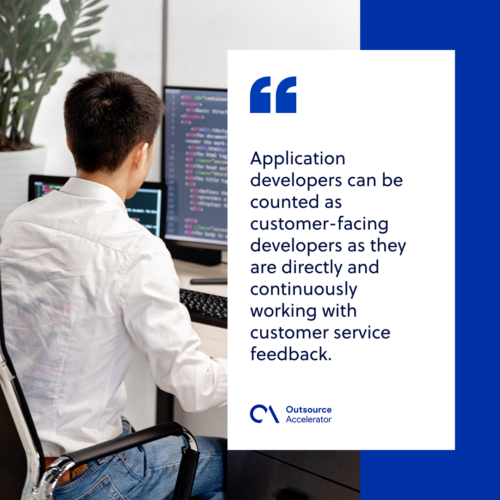 Application developer salary
Imagine a world where app devs aren't well-paid—we would be having a hard time using and advancing some of the essential forms of communication in the digital age.
App developers work either in companies or are self-employed. These two work models encapsulate the best of our society's developers, and hopefully, they won't get tired of it.
With these work setups, salaries may change depending on the location of the employer. Keep in mind that wages are dependent on the national average of each country—mostly extended to their states, provinces, and cities.
Application developer salary: US vs PH
Annual application developer salary

Junior developer

Mid developer

Senior developer

United States

US$82,430

US$107,510

US$136,320

Philippines

₱281,161 (US$5,605.56)

₱342,101

(US$6,820.54)

₱925,371

(US$18,449.30)
Through these figures, we can see the difference between wages in the US and the Philippines. Keep in mind that these are heavily subjected to change due to external factors. 
These wages are base salaries that don't count any bonus or incentives that employees get in a certain period. These figures are merely starting-off points for those who are looking for up-to-date information.
Starting with a junior developer with around one to four years of experience, they can either get US$82,430 working in the US or ₱281,161 (US$5,605.56) working in the Philippines.
The same comparison goes with a mid-level dev (around five to seven years of experience). They can either get paid up to US$107,510 in the States or ₱342,101 (US$6,820.54) in the Philippines.
Finally, we get to senior devs with more than eight years of service. They paid US$136,320 in the US and about ₱925,371 (US$18,449.30) in the Philippines.