Definition
What is the span of control?
The span of control or agent-to-supervisor ratio for a service desk is generally the number of frontline agents divided by the number of supervisors. It is a measure of the managerial control period and managerial performance.
There are at least three to four methods commonly used to assess the appropriate agent-to-supervisor ratio.
The first method.

It is a bottom-up modeling technique that catalogs all of a supervisor's roles and obligations before assigning a time value to each responsibility.

The second method.

Relies on industry benchmarks for advice on the appropriate agent-to-supervisor ratio.

The third method.

Examine confirming indicators like agent work satisfaction.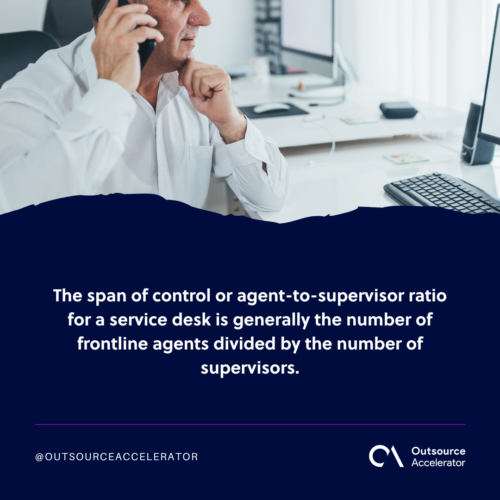 Importance of span of control
The agent-to-supervisor ratio is an important component in contact centers. Service desk supervisors and managers often question the ideal agent-to-supervisor ratio. If the ratio is too high, the management scope of control is too long, and agents may be operating without proper monitoring and supervision. It will result in several problems ranging from low morale to insufficient training, coaching, and feedback. A small span of control implies that the manager is in charge of fewer employees. 
The most important aspect influencing span of control and managerial abilities is the scope of work. It is easier for a supervisor to oversee all agents at the same time if all workers are doing the same job at the same time.