Top 20 BPO Companies in Singapore
Last updated: June 1, 2022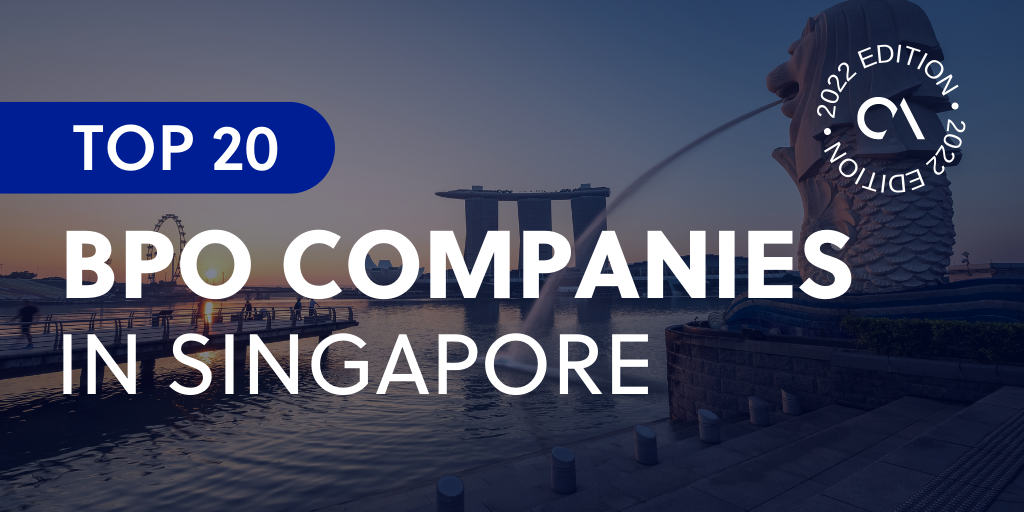 There are many reasons to employ Singapore-based business process outsourcing firms. BPO companies support operating under a limited budget by handling other duties such as press campaigns, lead generation, etc.
Using BPO services in Singapore reduces the cost of hiring a new team and preparing them to work according to your processes. You can save money by not needing to buy additional tools to complete various tasks and by upgrading as the market shifts.
Singapore BPO companies are already qualified and fitted with the appropriate equipment and licenses to conduct routine operations. They also give your company a fresh perspective and encourage your workers to concentrate on their core responsibilities.
For a better understanding, we created a list of the top Singapore BPO companies. See the section below for more information.
Top 20 BPO companies in Singapore
Top global outsourcing lists
Outsource Accelerator is the world's leading outsourcing marketplace and advisory. We have over 5,000 articles, 350+ podcast episodes, and a comprehensive directory with 2,500 BPOs. More so, we provide detailed information, price guides, and reviews.
Whether you're a solopreneur, SME owner, or corporate executive, we can help you find the most suitable outsourcing provider for your business.
Explore our outsourcing directory now. You may also check out our Top 40 BPO Outsourcing lists per country here:
About Singapore's outsourcing industry
Prime Minister Lee of Singapore highlighted the importance of transparency in the public sector in his 2005 Budget Address.
He encouraged government departments to best source non-core roles to slash expenses and improve competitiveness. This initiative helped the government to concentrate on improving public programs.
The US Department of Commerce rated Singapore as the second fastest-growing outsourcing center for US businesses in a 2004 survey.
In addition, the Infocomm Media Development Authority of Singapore stated that several multinational companies placed their company process outsourcing operations in Singapore to increase their production efficiencies.
The country has been the seat of outsourced operations for companies like Citibank, Hewlett-Packard, IBM, and Microsoft.
Complete BPO outsourcing directory
Outsource Accelerator provides the world's leading outsourcing directory. Explore the BPO outsourcing directory now. We have a comprehensive directory with 2,500 BPOs – including the world's leading BPOs and fledgling startups. Explore the BPO outsourcing directory now.
You may also check out our Top 40 BPO Outsourcing lists per country here:
The top 20 Singapore BPO companies
Singapore BPOs provide a diverse range of services to global clients aiming to optimize and scale their businesses. Some of their most common offerings include customer service, technical support, digital marketing, and IT-related processes.
Take a look at the top 20 BPO outsourcing companies in Singapore in 2021.
TDCX has evolved into a boutique outsourced business service provider since its inception in 1995. Today, the global BPO firm specializes in customer experience solutions for increased clients in a variety of industries.
With more than 10,000 professional employees, its focus lies in providing outstanding customer-centricity that enhances clients' brand engagement and scales digital innovation. This helped TDCX thrive as an award-winning digital economy enabler.
The company's goal is to help its clients and workers succeed by providing creative, high-performance solutions and delivering customer engagement innovations in the following areas:
customer service
content moderation
e-commerce
tech support
trust & safety
revenue generation
inside sales
Aidey's management system has a deep knowledge of the operational and global start-up ecosystems, as well as extensive operational expertise to help your business expand.
It has over seven years of experience offering excellent customer service for start-ups, e-commerce, and SaaS firms of all sizes and sectors across the world.
Aidey's diverse offerings are used by a variety of brands, including:
Technical Support
Customer Success
Customer Success
Aidey's services are beneficial for companies in the SaaS, e-commerce, hospitality, and services sectors to optimize their operations and have seamless customer relationships.
Clients who use Aidey's services build and scale efficient and cost-effective operations that balance the needs of all stakeholders in their environment, from company management to end customers.
Diligence Agency is a subsidiary of Boffin Creative Agency, which was created in 2012 as a two-person operation in a Maryland apartment.
It has since grown into a team of technocrats and strategists with more than 50 pleased clients around the world. The company's goal is to reach out to any small and medium business owner who wants to digitally transform their company.
Diligence Agency is a leading provider that offers a wide range of web design, software creation, hardware, and content services. The firm is also known for its creative solutions and ability to provide customers with customized solutions as needed.
CIENCE is a People-as-a-Service agency (PaaS). CIENCE's tech-savvy workers are competent, well-trained, and optimistic market change agents for our clients.
The company encourages its employees to solve issues efficiently and deliver results for our clients. They partner with some of the most well-known brands, corporations, and startups all over the world.
CIENCE believes that properly executed sales build value. They research and explore with the clients to find an Outbound Outreach strategy that generates long-term partnerships for their marketing team.
Everise provides a unique set of consumer, brand, and digital experience solutions that help businesses thrive through their services and products. It monitors, supports, and sells goods and services for some of the world's prominent brands.
Everise is ideally situated in the uncommon ideal range of low labor costs combined with strong political and infrastructure stability.
The firm allows its clients to use a mix of domestic, nearshore, offshore, and home-based tools to ensure that their outsourcing mix keeps customer satisfaction high and costs down.
Callbox is one of Singapore's leading BPO firms. It assists businesses in a variety of sectors, including IT and software, consulting, BFSI, healthcare, advertising, and in developing revenue-generating marketing strategies for their different programs and objectives.
Since its inception in 2004, the business has expanded to include 174 back-office BPO service providers. Callbox's key services include:
Telemarketing
Database solutions
Digital marketing
Event marketing
Email marketing
MarketOne International is a multinational demand generation firm that specializes in sales-driven marketing. The firm generates and nurtures leads, attracts and expands customers, and provides clients with the assurance that their marketing investments will pay off.
MarketOne International optimizes knowledge by connecting interactions. It aims to enhance the timeliness, relevance, and efficacy of each subsequent buyer interaction; whether it is conducted online, or over the internet.
Swivelt is the next generation of frictionless disruptive outsourcing technologies that can help companies run, innovate, and grow. The company drives scale and development by designing bespoke market strategies that generate, build, and capture value at all levels of every organization.
Swivelt'steam has more than 20 years of experience helping Fortune 500 companies and entrepreneurs expand and scale their businesses.
They are considered experts in handling the entire consumer life cycle and transforming business service functions to scale effectively with changing market dynamics.
incall Systems Pte Ltd, also known as inCall Systems, is a market lead service provider that offers meaningful and observable outcomes for companies.
It has professional experience in database, customer engagement center, and demand and lead generation. It was acquired by Challenger Technologies Limited, a publicly traded firm in Singapore.
The company is a results-oriented outsourced business service provider that provides end-to-end integrated sales and business solutions. This BPO provider also helps clients in achieving their strategic objectives of attracting, maintaining, and increasing customers.
Briley Group is a privately held international corporation that offers exceptional outsourcing services to its clients. The company's environment represents the integrity with which they work with their clients. It spans a wide geographic region that includes almost every country on the planet.
Briley Group joined the BPO industry in 2000, believing that people are the motivating factor underlying successful companies.
Its services include providing resources, networks, and services to companies and management teams, allowing them to respond to opportunities, expand, and thrive.
3E Accounting is an international financial and accounting company for professional accounting firms. The firm offers high-quality accounting services on a local and international scale.
3E Accounting in Singapore is one of the member businesses listed from the network countries of 3E Accounting International Network/
UnitedLex is an international supplier of a legal services company in Singapore. Their goal is to help law agencies, law firms, and professional associations perform better.
For its clients in North America, Europe, and Asia, the firm offers unrivaled solutions that result in risk reduction, performance improvements, and operational efficiency.
Established in 2006, UnitedLex has over $250 million in assets and committed capital, providing the right mix of service and technology to the world's leading businesses and law firms.
It employs over 1,800 attorneys, engineers, and consultants working in the diverse fields of litigation, data protection, and cybersecurity, contracting, and intellectual property.
Further, the firm is dedicated to empowering legal leadership in the design, development, and implementation of a variety of solutions that meet their immediate and long-term goals.
ECHO Broadband Singapore Pte Ltd assists companies to improve competitiveness in the international market. It was founded in 2000 to serve the European television market.
It includes exemplary IT experts, geographers, and network engineers who maintain the highest level of customer support.
ECHO offers consumers a range of expertise and experience that incorporates the most recent technological advancements. The company's matrix structure accommodates regional businesses and global technological resources, which are overlaid with project execution teams.
Their offerings allow the firm to remain agile and attentive to unique customer requirements.
FIS is a leading financial services technology that specializes in corporate and business banking, transactions, property and financial advisory, risk and compliance, advisory, and outsourcing solutions.
The firm serves over 20,000 clients in over 130 countries across the depth and breadth of its solution portfolio, global capabilities, and domain knowledge.
FIS is one of the world's leading technology suppliers to the capital markets, retail banking, and merchant sectors. They link the value chain and use our scale to build solutions that enable our clients to grow confidently.
LivProp introduces live chat features to a client's website, further improving their audience's experience and interaction. Their agents are highly trained to understand the significance of the Real Estate Industry well enough to turn an online inquiry into a lead in real-time.
LivProp offers the following services:
Increase qualified leads while decreasing lead leaks
Increase customer online support Interaction
Get comprehensive customer reports.
Applications that are ready to use and do not need any hardware investments
Get complete lead management software.
AFON has been assisting SMEs and company subsidiaries in changing the way they operate since 1999. They do this by offering effective but affordable enterprise resource planning (ERP) solutions.
By collaborating with the biggest names in the ERP industry, like Microsoft, Oracle, and Sage, they have provided organizations all over the world with increased productivity, control, and profitability.
AFON also provides business intelligence and generates reports, hardware, and technology solutions, IT outsourcing, cloud computing services, and mobile solutions to help businesses of various sectors.
Because of their extensive knowledge, the company can provide the best business solutions for their clients' needs.
Asian Technology Solutions was created by SAP (Systems Applications and Products in Data Processing) project leaders and managers who focused on SAP projects to develop core marketing services in a variety of industries and at different levels.
They offer SAP experts to lead or assist a client's development and consulting needs in key functional and technical positions. The company aims to provide clients with guaranteed service excellence in their ERP implementation endeavors.
ATS provides exceptional, cutting-edge consultancy and guarantees continuous support at all phases of a project to help its clients remain on top of their companies at all times.
ATS is headquartered in Singapore and has current operations in Malaysia, Australia, Indonesia, the Philippines, India, and Thailand.
Millennium Technology Services (MTS) is a multinational supplier of world-class business solutions and information technology services to companies in North and East Asia.
It serves more than 70 Fortune 500 clients in information technology and industries through a network of regional and local subsidiaries.
MTS has a world-class team that delivers world-class services. Their team consists of foreign domain experts who provide business and IT consultancy, project management, application virtualization, testing, and IT operation support.
The company employs over 200 highly skilled professionals and is led by a world-class multi-national executive management team.
Atomatic is a firm that specializes in developing, refining, and streamlining systems and processes to help companies reach their full potential.
The organization claims that the secret to every business' huge rate is a combination of excellent marketing and optimized operating structures and processes.
Atomatic brings more value to the client and the team by improving business efficiency by better performance. They also assign a highly qualified Atomatic Business Manager (ABM) to serve as business's Chief Operating Officer (COO).
They monitor and ensure that every system and process is operating at the top level of effectiveness and performance.
Star CRM Singapore is the Asia-Pacific region's provider of CRM applications and services. They have a 20-year track record of assisting large domestic and global organizations in the deployment of CRM platforms.
They offer cutting-edge CRM software solutions that improve sales, promotions, loyalty, customer care, and outbound telemarketing, as well as services in loyalty, data, analytics, digital marketing, and telemarketing.
What's more, it offers a combination of CRM software and services. They provide all the resources they need to engage with their clients efficiently and productively.
Their client portfolio includes Japan Tobacco International, Shell, Honeywell, Pfizer, Dutch Lady, Malaysia Institute of Accountants, and Axa Insurance, among many others.
Are you in the top 20 Singapore BPO companies? Get in touch
Let us know your thoughts regarding our top 20 BPO companies in Singapore. If you have anything to share with us or if you have any questions, feel free to contact us at [email protected] and we'll be more than happy to help you.
If you want to know more about Outsource Accelerator, just browse our website and services.